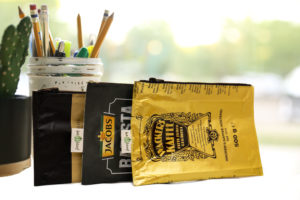 Pencil case (and more…)
This zipper case is made from used coffee bags. It can be used for pencils as well as for whatever else needs to be stored and carried, like chargers, cables, passports, your pharmaceutical travel kit, etc . Each case is sturdy, distinctive, unique and durable. As the name says: a real keeper…
Our tip: keeper is an ideal travel companion if you want to pack soap or shampoo bottles you don't want to leak and soil the stuff in your suitcase.
Mäppchen 
Diese Reissverschlusstasche aus gebrauchten Kaffeebeuteln ist supervielseitig. Es kann für Stifte, Bastelsachen, Stricknadeln ebenso wie für Ladegeräte und Kabel, als Täschchen für die Reiseapotheke, Reisedokumente oder Schmuck verwendet werden. Jeder "keeper" ist ein robustes, unverwechselbares und widerstandsfähiges Einzelstück. Der leichte Kaffeeduft verschwindet, wenn er eine Weile im Einsatz ist… 🙂
Tipp: "Keeper" ist auch ideal, wenn man z.B. Seife im Seifensäckchen oder Kosmetikbehälter mit auf Reisen nehmen will, die nicht im Kulturbeutel oder im Koffer auslaufen sollen.